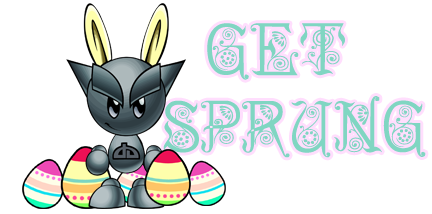 Spring has sprung!
Get Sprung is here! An entire week to celebrate the beginning of an amazing season! We've got contests, we've got games, we've got prizes, and all you need to do is participate! Let's all show the world how hardcore dA can roll when springtime comes around.
And now, for a little more detail.

Grumpy Bunnies
Listen up, all you grumpy bunnies! We threw Fella in a bunny suit to help spread the springtime cheer, but he's not to happy about it! He wants all of you to join him and dress up as a grumpy bunny and send in a photograph, so he doesn't feel like he's the only one wearing a weird bunny outfit. The more people to dress up, the better, and the better you dress up, the bigger the chance of you winning Fella's heart and bringing him home!
$
aunjuli
is heading up the amazing, the ultimate and the incredible Grumpy Bunny Contest to help Fella on his search for a bunny who is grumpier than he is!
Let us tell you all about these prizes!
1st Prize

Fella Plushie and a Three month sub!
2nd Prize

One month sub and an official dA lanyard!
3rd Prize

One month sub!
To find out how you can participate with The Grumpy Bunny project, head on over to

! Bring your family and friends! Pimp it out!
Madlibs
Or maybe you're more of a Madlibs person?
Starting Monday, March 17th in the
Community Projects Forum
, there will be the first of a handful of contests going on this week for Get Sprung! It is going to be a Madlibbing good time and I hope to see you there! There are going to be fantastic prizes, too! All you have to do is get the list and fill that in with whatever verb, noun ect needs to be, then go to the CP Forum and fill in the blanks! May the best libber win!

Eggies
The Easter Bunny needs your help! He has what every artist fears... Artist Block! He has put out an A.P.B for the best egg designer on dA. Do you think you have what it takes? Check out the
News Article
for the full details. The Easter Bunny is offering an award for anyone who can help him, so pick up your paint brush or stylus and get to work designing the best Easter Egg you can!
Good Luck
PeepArt
Listen up, deviants! Easter candy is in need of an immediate overhaul, and we need your help! I'm sure everybody is familiar with friendly sugar covered marshmallow product known as Peeps, (If not,
you are now
) so when we ask you to show us your most AMAZING PEEP ART, you'll know exactly what we mean! We want to see your peeps dyed, dressed up, sculpted, annihilated until nothing is left except for the most original and creative art piece is left! Like marble was to Michelangelo's David, Peeps will be your gateway to your magnum opus! Or not! Just have fun! Make sure to head on over to
for the full rules and explanations on how YOU can participate in Peeps for Art! (Did we say there will be prizes? BECAUSE THERE WILL BE.)