Mechangel2002 AKA Diana Greenhalgh
As Editor in Chief I often have the final responsibilities in maintaining the policies and organization of the studio. Sometimes delegate, sometimes advisor, and sometimes referee... I help keep everyone and almost everything organized and encourage all of the studio members to stay active on their comics. I tend to be very headstrong, and in the summer of 2006 I happened to be very deeply involved in keeping things in the studio going -- and found myself voted into the position by the studio members in August 2006 when the previous EIC stepped down. I'd only started trying to break into comics in 2005 as an inker, but Ronin was a home for me and I wanted to help keep it going. Every year the studio grows, each individual creator grows, and I grow. In 2005, when I started out, I had been one of those creators wanting to bring my own creation to life and get it out there into the hands of comic book fans. I put that on the back burner to pursue inking, but nothing makes me feel better than seeing each new book that's completed in the Ronin Studios community and how the creators AND the artists are growing and improving. As well as being the volunteer EIC of Ronin Studios, I'm also a professional inker, aspiring penciler, and a talent agent (I represent talented up-and-coming artists from other countries to give them a fair chance at breaking into the north american comic book industry). I will be opening my agency to the public at the end of 2008.
:comic:
Ronin Studios 2008 Trailer
:comic:
Ronin Studios on IndyPlanet
Ronin Studios was founded by Noble Larimer (whose books are available in online format via Wowio) in 2004 and has evolved into a not-for-profit organization dedicated to helping comic creators realize their dreams of working in the comic industry. Through our forums and various projects we strive to assist people gain experience in the comic field. Our volunteer staff provide valuable experience and guidance for every aspect of comic creation.
Our highest goal is to see all members achieve the experience they need to be successful in the ever changing comic market. While Ronin Studios is not a publisher in the traditional sense (it's not a corporation) we do have various publications with contributions by members and have not only gathered a reputation as a publishing label, but also a standing in the independent comic book industry. At Emerald City Comic Con 2008, the How To Break Into Comics panel recommended Ronin Studios to creators. Ronin Studios isn't just a one stop shop per say --- it's kind of a stepping stone for new creators and artists. Since 2004 we've had over 60 books out as well as seen some titles move on to places such as Arcana Comics, Image Comics, Shadowline Comics, and others. Artists from the studio have also gone on to work in the mainstream after working on projects at Ronin Studios.
I've had creators ask me "What is the point of being at Ronin Studios." I like to put it this way: You can go solo into self publishing --- or you can go into self publishing with a community/studio of like-minded creators and artists that can provide added support and exposure that you would not receive if you made the journey alone. We band together for community projects, conventions, and other projects and events -- something a creator might not be able to do on their own. And I know we're not the only studio out there, but hey... we're Ronin!
Submissions
People might ask "Well, you're not a publisher so why are you taking submissions?" The point of submissions is for approval to use the Ronin Studios name on the cover of the book. A creator's book or project remains creator owned and operated, but we want to make sure that the studio name isn't being used for something bad -- like anything promoting hate, racism, things like that. If creators are interested in joining Ronin Studios, participating in the community, and having their books under the Ronin Studios umbrella, they can contact us through the
Submissions page
on the studio website.
If you're interested in joining the public community of Ronin Studios, we do have a
public forum
where you can interact with our creators and various artists, show your work to other community members, and keep up to date on Ronin Studios news and convention plans. When registering for our forum, please use your real name and not an alias.
Anthologies
To quickly explain anthologies, they're a collection of short stories -- in this case short story comics. Each story is stand alone (which means it doesn't continue into anything else), usually 4 to 11 pages in length, and they're primarily meant to help new creators and artists publish something original without having to worry about the cost and time involved in creating an entire book or series. At Ronin Studios we have our flagship anthology series which is Ronin Illustrated and it serves that purpose as well as offers fans a book containing a little bit of everything. Though we only have two of the issues available for sale online right now we actually have FOUR issues completed (one at the printer and one being prepared or "pre-pressed" for the printer), and are currently filling issue #5 with new stories. I should probably mention to creators interested in submitting to the Ronin Illustrated series, as editor I'm always accepting submissions, which can either be sent in to the address on the Submissions page of the website, or to myself via the email address listed on the
Contact page
.
In keeping with our not-for-profit standing, a few years ago we started a charity book which grew into the beginning of a line of charity books called HOPE. Each individual volume is a graphic novel anthology with a theme for the cause it supports. It started with HOPE: Tsunami, which benefited the Tsunami Relief Fund until the fund closed (which means we no longer sell that volume). Our next accomplishment in the HOPE line was HOPE: New Orleans, which benefits the Red Cross in Southeast Louisiana. And I speak in the present tense because the Red Cross still needs our assistance. We've raised over $2000 since the book hit store shelves in September 2007, and we plan to raise at least that again. You can find HOPE: New Orleans at Ronin Studios booths and tables at US conventions, or you can order it into your LCS since it's available through Diamond Comics Distributors.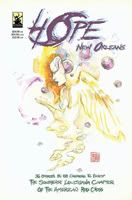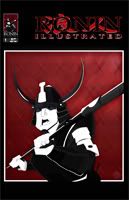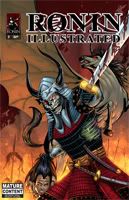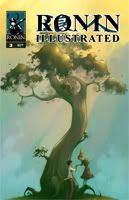 Our latest installment of HOPE
just opened up for submissions
a week ago Friday. It will be our largest endeavor yet, benefiting
The Hero Initiative
, a charity dedicated to helping comic creators in need. Editor Dustin Archibald is leading all of us on this book. Past volumes were organized by editor Thomas Mauer, who has gone on to lettering professionally full time.
Under the Ronin Studios label there's a little something for everybody. We have a wide showcase of creators with titles from various genres. There's fantasy with Alpha Omega, Epsilon Realm, and Once Upon a Time. There's science fiction with 3rd System, Adam Zero, Battle Eulogy, and Razor Kid. Action with C.H.E.S.S., Chronicles of A Bounty Hunter, Kung Fu Engine, and The Venger as well as new addition The Major (from Brazilian creator Hector Lima). Newcoming title Dead Dick: Zombie Detective provides shivers and thrills, while the ever exasperated Wyliman never fails to make us laugh. New projects and their creators join Ronin Studios all the time and we are recently welcoming titles that will go public in the near future.
Ronin Studios Q&A in #CandC 2pm PST Today!
Credits
~
Wyliman
Ronin Logo by ~
Zorgia
HOPE: New Orleans cover is by David Mack
Ronin Illustrated #1 cover is by "Dapper Dan" Schoening ( `
DanSchoening
)
Ronin Illustrated #2 cover is by ~
Longoria
and*
bennyfuentes
Ronin Illustrated #3 cover is by ~
skim-milk